Corporate profile
Modern and Future-oriented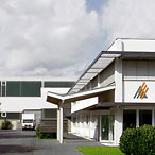 STEELDESIGN is a medium-sized company that has specialised in housing technology from stainless steel. With a long tradition and lots of experience.
Founded in 1991 already as company of control cabinet and housing specialists, further developments were made in this "technology forge" in the course of the years. STEELDESIGN has made a name for itself as the leading provider of special stainless steel housings.
STEELDESIGN is, among others, the inventor of the IP69K protection classes for stainless steel housings. Housing developments for particular high IP-protection types are unique. Thus, housings are constructed for the highest hygiene needs.
Innovations in Any New Housing
We produce customised stainless steel housings and thus housing solutions for any needs. Produced individually or in series, from aesthetically sophisticated to extremely resilient, from smallest dimensions to large control cabinets.
The current patented housing series in the Hygienic design shows that STEELDESIGN continues to be a leader in housing construction. A highly motivated team with long experience works on matching housing solutions for you.
Stainless steel housings by STEELDESIGN are hand-produced high-tech products. With great detail and high quality awareness that finishes each of our housings to the last detail.
Industry Professionals
Many of our stainless steel housings are individual industry solutions. They were specifically constructed and produced for certain areas of use. STEELDESIGN housings prove their worth even under extreme conditions, e.g. on oil platforms and in the chemicals industry. They warrant safety in highly sensitive areas such as medical technology or food production.
 
We Measure Everything by Our Customers
Every single customer should receive his individual housing: this is our business principle. Therefore, we custom-produce all housings of stainless steel. Standard housings may also be delivered in different dimensions or protection classes.
The long know-how not only leads to solutions in construction, but also to quick production processes. "STEELDESIGN is owner-managed and thus a lot more flexible than other companies.
This not only includes production of perfect housing solutions but also service and customer-compatibility. My employees and I have a shared goal: We want to deliver your housings to your satisfaction!"
Yours, STEELDESIGN GmbH